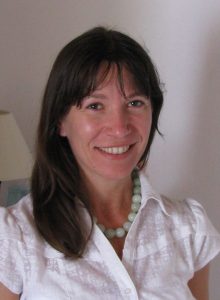 Carole Dumenil studied shiatsu with Marianne Fuenmayor at the New York Open Center. She went on to train as an acupuncturist at the College of Integrated Chinese Medicine (Reading, UK), where she was awarded a Licenciate in Acupuncture (Lic. Ac.). She furthered her training in Five Element Acupuncture with Gerad Kite and Niki Bilton.  She trained in aromapuncture with Josephine Splika to blend the use of essential oils on acupuncture points.
Carole was in private practice in London for 8 years and has used acupuncture in the treatment of addiction at the Core Trust, and participated in the Sri Lanka Project organised by World Medicine in 2006. She now practises in Marbella, Costa del Sol.
Carole Duménil is an Overseas Member of the British Acupuncture Council (OMBAcC) and of the Societat d´Acupuntors de Catalunya (SAC).
Members of the British Acupuncture Council have completed a minimum of a three year course in traditional acupuncture, and are therefore entitled to use the letters MBAcC after their name. UK members are covered by a professional indemnity and public liability insurance and bound by the council's Code of Ethics and Practice.


"A huge thank you for all your support through all this process. Although I originally came for fertility, acupuncture helped my sleep and energy…" – Alison, HR Manager

"Acupuncture has tremendously helped in managing my anxiety levels, my sleep is improved and I have more energy!" – Jan, Web Designer

"I 100% recommend Carole's treatment. I could barely walk, sit or sleep for shooting pain down leg and back with sciatica…." – Dawn BC, Canada, travelling through Spain